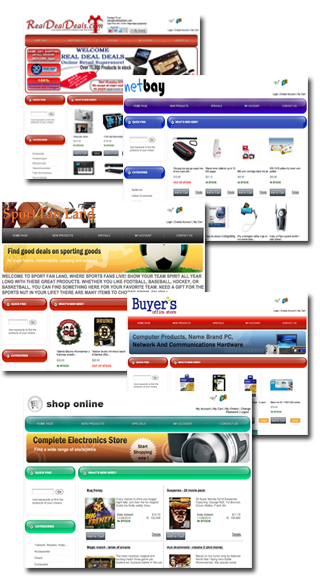 Many people confuse dropship websites with affiliate websites however they are both very different.
An affiliate website is usually provided by a vendor in a fixed format with products controlled by the vendor, meaning they control the look of the site and the price of the products.  With an affiliate website, you basically your job is to simply send traffic to that website and if a sale is made, then you earn a commission pre-defined by the vendor.
A dropship website is very different.  With a dropship website, you are in control of your website and product prices.  Such a website can be considered as your own website since it can be hosted under your own domain name so you can customize it as you wish.  Having full control over your website and over the product prices gives you a big advantage in the market.  For example you can decide to lower your prices to be more competitive in exchange for a lower profit, however you will most likely make more sales this way.  You can also decide to create special discounts on selected items only or even create discount coupons for your first time buyers to give incentives for placing a 2nd order on your website.
The most important thing to you need to realize with a dropship website is that you will be on the front line of customer support.  This means choosing the right dropshipper is extremely important as your reputation will determine if you will be a success or a failure with your online venture.  Although you may offer the nicest and friendliest customer support to your buyers, ultimately if you choose a bad dropshipper you will take the hit each time your supplier drops the ball on your orders.  This will make you and your website look bad and will scare away potential buyers.
Wholesale2b.com already has many of the best dropshippers integrated in their services so you don't have to spend time looking and investigating for dropshippers that you can rely on.
If you can't find the types of products you want to sell, then you can use dropship directories to find the suppliers that do have the products you wish to sell.  For example if you are looking for a dropshipper of Cowboy Boots, then most likely you will need to refer to a dropship directory to find a dropshipper that focuses on this type of products.
If you don't already have access to a dropship directly, then click on the link below for my personal recommendation:
==> Dropship Directory Referred By Wholesale2b.com
If you can't find the products you need in your wholesale2b.com account, then simply use the dropship directory above and inform us of which supplier(s) you wish to add to your website and we will do it for you, free of charge.
Now back to getting your own dropship website.  When choosing a provider for a dropship website, please be aware that you will need unique and specific features that are unique to using dropshippers which are usually not provided by your typical shopping cart software.  For example, using a dropship website will assume that you will have many suppliers involved, therefore you will require special features to allow you to manage multiple suppliers in your dropship website.  For example you may want to set different types of shipping costs for each group of products which you have integrated into your site that are supplied by different dropshippers.  This is important since dropship suppliers usually all have different shipping costs.  This is just one example, however many other considerations should be taken into account such as profit tracking per supplier, order details per supplier, markups per supplier, discounts and free shipping configuration on a per supplier basis, etc.
For this reason I recommend using a shopping cart that is designed and adapted for a multi-dropshipper website.  All these considerations have already been carefully analyzed and integrated in the wholesale2b dropship website plan.  With our dropship website plan you are usre to get all the features you need to be able to manage multiple suppliers in one website.
Adding suppliers to your wholesale2b dropship website is extremely easy.  When you login to your account you will be presented iwth the list of all our integrated suppliers.  All you need to do is tick the suppliers you wish to add to your website and click ont he SAVE button at the bottom of the list.
Your website will be loaded with all the products from your chosen suppliers in just a few minutes.  From that point on, your website will be updated daily with new products, out of stock products and recent quantity in stock for each product on your website.
You can even add/remove any of our integrated suppliers at anytime you wish and your website will be updated a few minutes later.
It's that simple.
Each wholesale2b dropship website will come with an admin console that you can use to configure your website in many different ways such as payment methods, shipping and price markups, special discounts, discount coupons, SEO options and content management.  There are too many features to list here, however I can reassure you that you will be more than happy with your site.
We also offer customization if you require a special feature for your website so you are sure to be able to expand your business according to your needs.
To signup for your own dropship website, please visit www.wholesale2b.com