Get Your Own Website Loaded With Dropship Products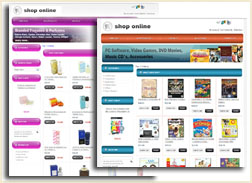 The website package includes a tunrkey ready-to-go fully functional e-commerce website that is pre-loaded with products and images provided by our integrated wholesale drop ship suppliers (dropshipper).
The website package is perfect for people who want to start their own branded name online store, or work-at-home people who want supplimental income. Instead of doing it yourself, save time and thousands of dollars by letting us build app development company a website for you.
Click on the dropshipper link to see full descriptions of some of the suppliers you will be able to choose from: FragranceX, FragranceNet, Chanx, RaxUsa, Moteng, XSDepot, Megagoods, and many more
How Does This Plan Work?
2. Choose the products you want to sell
Browse the list of dropship suppliers and pick which ones to add to your website. Your website will be updated daily with new products from your chosen suppliers and with the inventory status of each item.
3. Personalize your website
Customize your website by adding banners, a logo, and your own ads. You can also set you own "About us" page as well as the "Policy", "Shipping", "Terms" pages. You can also change the prices of your products and offer free shipping. There are several other customizing options.
4. You're now ready to start your business
Now you're ready to start taking orders from your website and fulfil orders directly with your chosen suppliers. They will ship the products directly to your buyers on your behalf.
What Will I Get With The Website Plan?
An easy step by step online tutorial guide to teach you how to manage your website
A free domain name and a free email address
Hosting on a very fast server
Ready-to-go website with a user friendly online insterface. No technical knowledge required
Product images and descriptions are pre-loaded to your website
You choose which products to add/remove from your website
We apply daily updates to your website to make sure your site is up to date
New products added to your website regularly
Supports multiple dropshippers. Add any integrated suppliers as you want at no extra cost!
Complete control over product prices and profits
Pre-define and editable shipping table
Accept PayPal standard payment and credit card payments
Products are categorized for you by our merchandising specialists
Correspond with your buyers with a newsletter
Load your own company logo
Choose from many professional looking website templates
Load any of our pre-defined banners or load your own banners
Add your own content to your home page
Create special discounts and special offers on products of your choice
Shop by manufacturer
Translation module will allow your shoppers to translation your website in any language
Manage product reviews made by your buyers
Add your own Google Analytics code
Add your own Google Adsense code
Meta tags manager (for SEO purposes)
Sponsored link page (exchange links with other websites for better SEO)
Google sitemap generated for you and refreshed weekly (for SEO purposes)
Edit your about us page, policy page and privacy page
Advanced search
What's new updated automatically for you
Database backup every day
Unlimited bandwidth
Integrated with your Twitter account and includes the FaceBook "I LIKE" feature